Toyota Prius Plug-in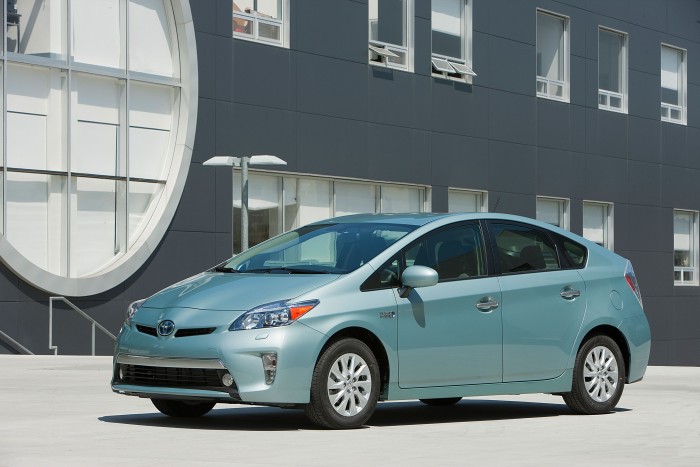 The Prius Plug-in combines the benefits of the standard Prius model's hybrid vehicle operation with extended electric vehicle (EV) driving and more affordable pricing ($32,000 MSRP) than pure electric or range-extender type vehicles. The Prius Plug-in Hybrid, which offers seating for five, is expected to achieve a manufacturer-estimated 95 MPGe (miles per gallon equivalent) in combined driving and 50 MPG in hybrid mode.
The Toyota Prius Plug-in Hybrid allows true EV operation and performance for up to 15 miles at speeds up to 62 mph, along with quick home charging using a standard AC outlet and 15-amp dedicated circuit. Operating in EV mode, the Prius Plug-in Hybrid provides the quick, smooth quiet driving of a pure electric vehicle. The Prius Plug-in Hybrid offers the same five-passenger seating and luggage space as the standard Prius model.
The Prius Plug-in Hybrid retains the Hybrid Synergy Drive of the standard Prius model and will seamlessly switch into hybrid operation at a pre-determined state of battery charge. A newly developed 4.4 kWh lithium-ion (Li-ion) battery pack replaces the standard Prius model's nickel metal hydride (NiMH) battery and fits under the rear cargo floor, and the vehicle adds an easy-to-use external charging cable.
A full charge using an external AC outlet takes approximately 2.5 to 3.0 hours using a 120v household outlet or 1.5 hours using a 240v outlet. The included 120v charging cable connects to the charging port inlet located on the right-rear fender.
The 0-62 mph (0-100 km/h) sprint time is 10.7 sec. Length 176.4 in (4.5 m).
Video