Honda CR-Z hybrid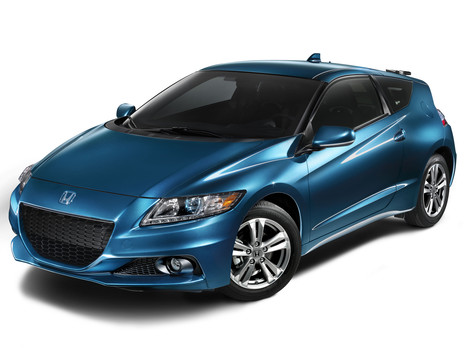 The 2013 Honda CR-Z goes on sale November 21, 2012 in the U.S. with a starting MSRP of $19,975 (In Europe it will go on sale in January 2013). The CR-Z hybrid powertrain is a unique variation of Honda's original IMA (Integrated Motor Assist) technology, which debuted on the 2000 Honda Insight, the first hybrid vehicle available for sale in North America. The system in the CR-Z utilizes a 1.5-liter 4-cylinder, 16-valve, single-overhead cam engine with "intelligent" Variable Valve Timing and Lift Electronic Control (i-VTEC) that receives additional power from the Integrated Motor Assist (IMA) system's DC brushless electric motor. The hybrid CR-Z's electric motor assists in acceleration and also acts as a generator during braking or coasting to capture kinetic energy that recharges the new Lithium-Ion battery pack.
For 2013, assist from the electric motor has jumped from 10 kW to 15 kW, thanks to the new higher voltage (144-volt) Lithium-Ion battery pack. The CR-Z now delivers a combined peak output of 130 horsepower at 6000 rpm and 140 lb-ft. of torque (127 lb-ft. on CVT-equipped models).
Even with better performance, EPA fuel economy ratings for the 2013 Honda CR-Z have improved. On CVT-equipped models, the EPA city/hwy/combined rating is 36/39/37 mpg (5.0 l/km), while models equipped with the 6-speed manual transmission see an EPA mpg rating of 31/38/34. The combined consumption is 5.0 l/km.
The CR-Z's front MacPherson strut and rear H-shaped torsion beam suspension are tuned to provide a sporty driving experience. All 2013 CR-Z models are equipped with new darker-tinged 16x6-inch aluminum wheels with finished spoke tips and 195/55R-16 tires, while accessory 17x7 alloy wheels with 205/45R-17 tires are available. The standard anti-lock braking system (ABS) with electronic brake distribution (EBD) uses ventilated front discs and solid rear discs. The low vehicle height, short wheelbase and placement of the battery and other hybrid components beneath the rear cargo area further contribute to a low center of gravity and responsive, sporty handling. Electric power-assisted rack-and-pinion steering enhances steering performance and improves efficiency.
The 0-62 mph (0-100 km/h) sprint time is 9.0 sec. Length 160.5 in (4.08 m). Seating capacity 2.
Video