Chevrolet Volt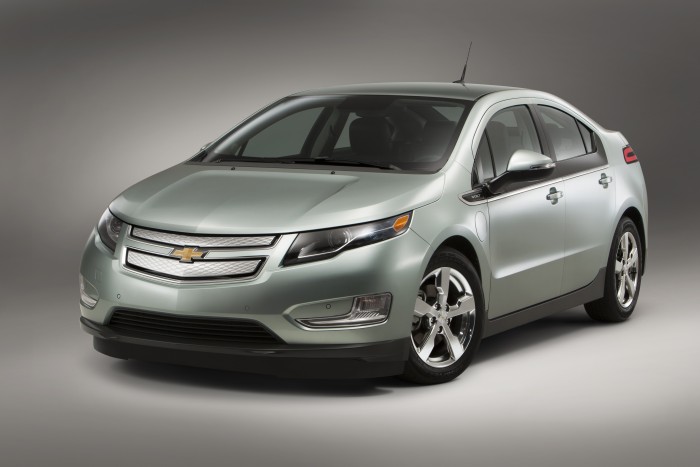 The Chevrolet Volt has established an entirely new segment in the global automotive market. It is a five-door, four-passenger car designed to provide the fuel-saving and emissions-reducing benefits of an electric vehicle without the range limitations associated with all-electric vehicles.
The heart of the Chevrolet Volt is its Voltec propulsion system, which combines pure electric drive and an efficient, range-extending engine, giving the Volt up to 382 total miles (615 km) of range.
The Volt's long-life battery consists of a 5.5-foot (1.6 m), 435-pound (198.1 kg) T-shaped, 16 kWh lithium-ion battery pack. It supplies energy to an advanced, 111-kW (149-hp) electric drive unit to propel the vehicle. Using only the energy stored in the battery, the Volt delivers an EPA-estimated 38 miles (61 km) of fuel- and tailpipe emissions-free electric driving, depending on terrain, driving techniques and temperature.
The Volt battery is covered by an eight-year/100,000-mile warranty. When the battery energy is depleted, the Volt seamlessly transitions to extended-range mode. Power is inverted from a technically advanced, 1.4L 84-hp (63-kW) gasoline-powered onboard engine to the electric drive unit to provide up to 344 (553 km) additional miles of range.
Charging the Volt's battery is simple and intuitive, and can be done with a 120V conventional household electrical outlet, or a dedicated 240V charging station. The vehicle is completely rechargeable in about four hours using a 240V outlet and 10 to 16 hours in a 120V outlet (depending on charging level and outside temperature).
The Volt's MacPherson strut-type front suspension, sophisticated compound crank rear axle and quick-reacting, rack-mounted electric power steering system with ZF steering gear have been tuned to deliver a smooth, refined ride with responsive handling and a solid, on-center feel. A low center of gravity combines with the wide track and long wheelbase for balanced performance. Front and rear hydraulic ride bushings help eliminate road harshness.
The 0-62 mph (0-100 km/h) sprint time is 9.0 sec. Length 177.1 in (4.5 m).
Video